Adjustment Layers
With this tutorial we're going to learn how we can take an image that may be a little under exposed or flat-looking and give it some pizzazz.
The same thing can be done with a tube that is very darkly colored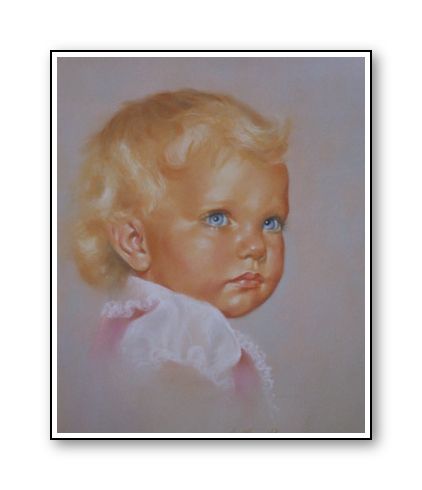 <--From this to this-->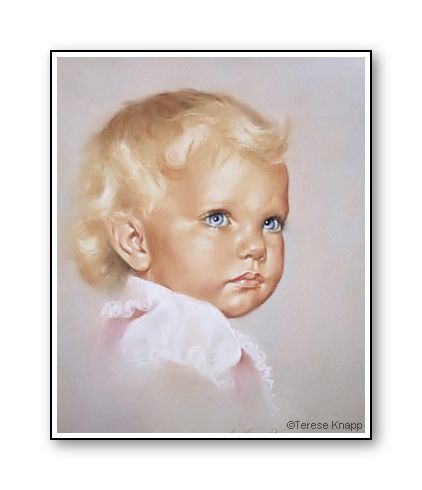 Terese Knapp has graciously allowed me to use and share a photograph she took of her personal artwork she completed years ago of her daughter, Tracy. Thank you, Terese!
The camera didn't quite capture the brilliance of the original, but we're going to try and replace some of that with this tutorial.
This tutorial was written by Pam Drake, August 2008
You are not allowed to copy or send through e-mail. However, you may print it up for your own personal use.
This tutorial has been created from my own ideas.
Resemblance to any other tutorial is purely coincidental.
Supplies Needed
PSP--this tutorial was written using PSP X2.
Adjustments for earlier versions in green
Image: Tracy_byTereseKnapp
School for PSP & More
...
Click on the above thumbnail to get to the full sized image.
Right-click the image and save to your computer.
Please leave the file name intact. Thank you!
Notes
A quick (general) word about adjusting photos.
On most images, improve the color, then the contrast and last the saturation. On very light or dark images, improve the contrast, then the color, then the contrast again, if needed, and lastly the saturation.
Then you can correct things such as noise, scratches, etc.
Sometimes you may find it is to your advantage to have two of your image open at the same time with both maximized in your workspace (if space allows) for quick comparisons of minor adjustments.
Unless I'm working with adjustment layers
only
I
always
duplicate the background layer to keep an original layer in case of error and also for comparison.
That way, if later something is altered directly on the image (such as red-eye removal, noise, scratches or even further adjustments applied directly to the image or whatever else you may find do to the image) and you find it isn't quite right, you still have the original layer intact.
From within PSP, open Tracy_byTereseKnapp
Duplicate the image by pressing Shift + D and close the original.
Duplicate the background layer. This is the layer we'll make all adjustments on when working directly on the image layer (later in the tutorial).
1
. On the Layers palette, right-click on "Copy of Background" and select New Adjustment Layer/Channel Mixer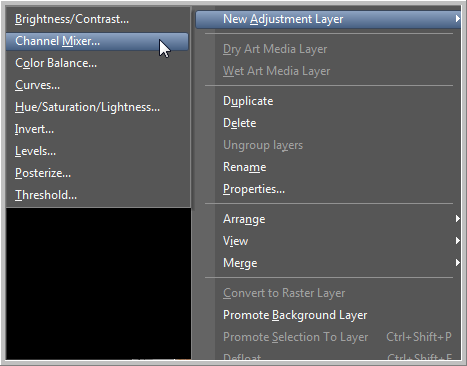 Click on the "General" tab and set the "Blend Mode" to "Soft Light"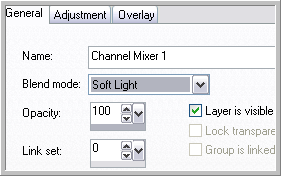 Click on the "Adjustment" tab and set to the following:
Check Monochrome near the bottom of the dialog box, Red: 100, Green: 0, Blue: 33, Constant: 0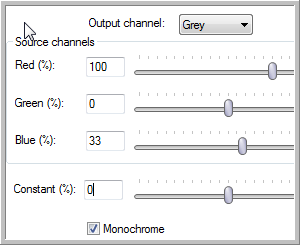 Click "OK"
If you click on the visibility toggle for the adjustment layer you can see the difference created with just that step.
The coloring of the image appears to be a little more natural-looking.
2
. The coloring looks better. Now let's adjust the contrast a bit.
Right-click on "Copy of Background" and select New Adjustment Layer>Levels
Notice in the adjustment preview all the color is at the center of the scale. Let's stretch that out a bit.
At this point our adjustment layers are working together.
Let's begin by moving the right (white) diamond-shaped slider in until it rests at, or close to, the edge of the graphed image. I stopped at 198.
Leave the left (black) slider at "0" for now and adjust the center (grey) slider to the right. I stopped at 112.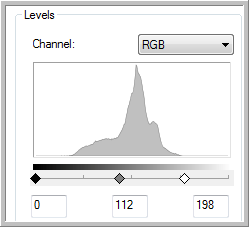 Click "OK"
3
. Even with the first two adjustments the skin still looks a little unnatural (too much saturation) so let's add another adjustment layer for that.
Right-click on "Copy of Background" for a third time and select New Adjustment Layer>Hue/Saturation/Lightness
Adjust the saturation slider down to about "-19" and leave the other setttings at "0"
Click "OK"
Wow! Look at the difference made with just those few adjustments.
4
. The image is a little grainy so at this point we're going to do something about that.
PSP 8: does not have this effect. Skip down to step 4b.
We're now working directly on the "Copy of Background" so on the layers palette, click on that layer to highlight it.
Adjust/Digital Camera Noise Removal
PSP 9: Adjust/Photo Fix/Digital Camera Noise Removal
Link detail sizes checked, Noise correction: 50, Correction blend: 50, Sharpening: 20
Click "OK"
4b
. PSP 8: There is no way that I'm aware of to produce the exact effect of the digital camera noise removal offered in the later PSP versions. However, you can smooth out the grain a bit and get (kind of) close to the above effect.
Adjust>Add/Remove Noise>Texture Preserving Smooth
Amount of correction: 50
Click "OK"
Adjust>Sharpness>Unsharp Mask
Radius: 2, Strength: 100, Clipping: 5
Click "OK"
5
. On the Layers palette, right-click on any layer and select Merge/Merge All (Flatten)
6
. Image/Add Borders
Symmetric checked, Pixels selected, Size in pixels: 5, Color: White
Click "OK"
7
. Image/Add Borders
Change the "Size in pixels" to "2", and the "Color" to black
Click "OK"
8
. To the right of your standard toolbar, you should have a Script toolbar. It looks like this:

If you don't see it, go to View/Toolbars/Script
The two icons we're concerned about for this tutorial are "Select script" and "Run selected script"
Click on the Select script drop-down arrow and select the "Border with drop shadow"
Click on "Run selected script"
Just keep clicking "OK" and/or "Save" if the dialog boxes come up and watch it do its magic.
9
. On the Tools toolbar select the Text tool.
Left-click on your image and add ©Terese Knapp if you used this image, or other copyright information, if needed.
10
. File/Export/JPEG Optimizer.
A couple of
big
pluses when working with adjustment layers is that you can apply adjustments and click the variations off and on to view the changes.
If, when you're done, you've added several layers and end up not needing or liking one or more, simply delete it. No need to go back and undo all your steps to get to that one step.
You also have the ability to work with selections and masks when working the the layers...a
huge
plus, in my opinion.